ALGERIAN MUSIC
Algerian music is known for the diversity of its styles and the richness of its repertoire. It consists of different genres:
Arab-Andalusian music,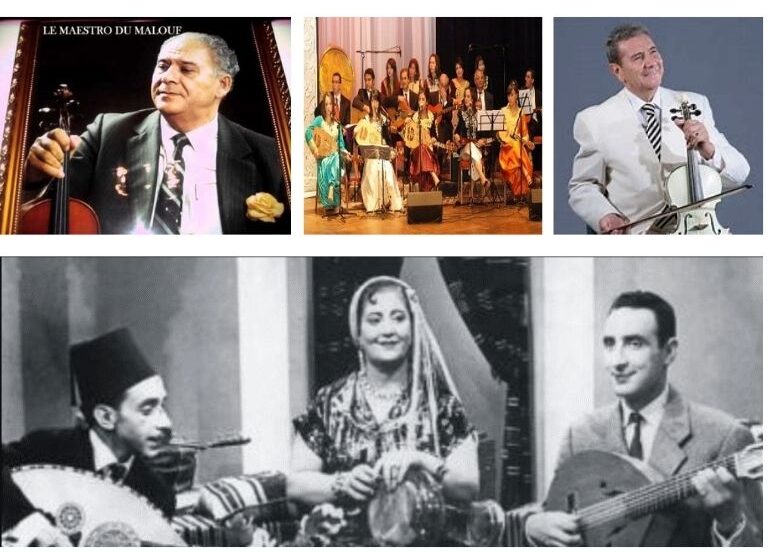 Considered as Algerian classical music, it is based on the nouba system invented by the virtuoso musician Baghdadi Ziryeb (789-857), creator of the musical tradition of Muslim Spain.
There are three variants: the Ghernati of Tlemcen (Cheikh Larbi Bensari, El Hadj El Ghaffour), the Sa'naa of Algiers (Mahieddine Bachtarzi, Dahmane Benachour, Fadila Dziria, Abdelkrim Dali) and the Malouf of Constantine (El Hadj Mohamed El Fergani, Hamdi Bennani, Hassan El Annabi).
Chaabi music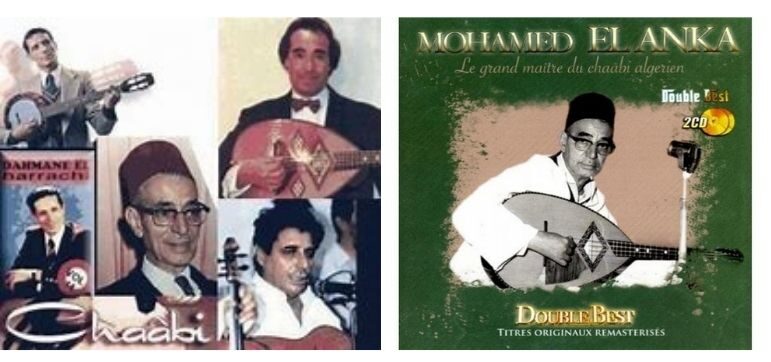 Coming from Arab-Andalusian music, chaabi music was born in the working-class neighbourhoods of Algiers in the first half of the 20th century. It is interpreted in the popular language, the dialect of the capital (hence its name chaabi which means "popular" in Arabic) by masters such as: Hadj M'Hamed El Anka, Maâzouz Bouadjadj, Boudjemaâ El Ankis, El Hachemi Guerouabi, Dahmane El Harrachi, Slimane Azem, Abdelkader Chaou, Amar Laachab, Amar Zahi, Abderrahmane Koubi, Abdelmadjid Meskoud.
Kabyle music

With its own specificities, its rhythm and its poetry, it is interpreted by Idir, Ait Menguellat, Maatoub Lounes, Kamel Hamadi, Cherif Kheddam, Djamel Allam, Malika Domrane…
Staifi music

Popular music based on the zendali rhythm. Among its interpreters, we can cite Bekakchi El Kheir, Samir Staifi, Bentoumi Mohamed, Djamel Nordine…
Chaouie music

It is a traditional musical style from the Aurès region that is sometimes expressed in Arabic and sometimes in Chaoui. Its interpreters are Hamid Belbeche, Aissa Djarmouni, Ali El Khencheli, Hadj Bouragaa, Djenia Khaled, Teldja, Zoulikha, Nacreddine Hora, Massinissa…
Saharawi music

Originally, it is a Bedouin music based on the bendir and the jawaq (the flute). Its interpreters: Ahmed Khelifi, Abdelhamid Ababsa, Menai Ahmed, Amar Bar, Rah Tahar, Bachir Sahraoui, Rabah Driassa, Nora….
Oran music and rai

Oran music derives its specificity from the harmonious blend of traditional badaoui and modern. Its main masters are Ahmed Wahbi, (singer composer), Blaoui Houari.
The rai was born in the region of Oran and it is expressed in dialectal Arabic. It is a musical form that results from the union of Bedouin music, Latin and Arab-Andalusian sounds. Among the names linked to this musical genre are Cheikha Remiti, Cheikh Khaldi, Cheikh Hamada, Ahmed Saber, Zehouania, Bellemou, Houari Benchenet, Rachid and Fethi Baba Ahmed, Hasni, Cheb Khaled, Cheb Mami, Fadila, Sahraoui…
Gnawa music

Gnawa is an ancestral music that comes from sub-Saharan Africa. It is sung by a maalem (master) to music based on guembri, tbel and qarqabus. The most famous interpreters of this music are Othmane Bali, Hesna El Bacharia.